I wrote this book review for an English class that focused on reading and writing book reviews.
Dybek Faces His Ghosts in The Coast of Chicago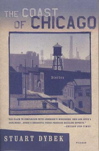 In Stuart Dybek's The Coast of Chicago, he welcomes you into the Southside Chicago of his childhood. His neighborhood is full of immigrants--an intimate community of outsiders, dreamers and believers trying to get along.
Tinged with music, death and a hint of Slavic mysticism, Dybek's stories take us through the life of a boy from childhood to middle age almost seamlessly. The narrator's name changes in each story, but you get the feeling he could represent any boy, or possibly Dybek himself.
But the most fascinating aspect of Dybek's writing is the permeability he creates between dreaming and reality, memory and present day, life and death. Each story seems to be at least partially occupied by ghosts.
"Blight"
Dybek shows his full abilities of blending reality and otherworldliness in the short story, "Blight." The story follows a group of boys joined by a love of blues music, growing up together in a mostly Mexican and Polish neighborhood deemed by the city to be an "Official Blight Area."
The narrator first establishes his credibility as a true Chicagoan by citing former-mayor Richard Daley's love of the White Sox. He brings fantasy into the story almost instantly when he introduces his friend, Ziggy, a boy who claims to have seen Daley's limo drive through the neighborhood. Then again, he also claims to have seen saintly statues nod at him and believes his dreams predict the future.
Ziggy is particularly haunted by a recurring nightmare in which atomic bombs hit Chicago the night the White Sox win the pennant. While the other boys go on to write poetry, meet girls, and buy cars, Ziggy's few appearances relate his anxiety during seasons when the White Sox are doing well, fearing it will be the end.
It finally comes to a head when the Sox win in 1959, and then-mayor Richard Daley orders officials to set off the air-raid siren in celebration--a real-life incident in the history of Chicago. Fantasy and reality mingle beautifully in this story, making it believable with just a hint of mystery.
"Nighthawks"
On the more dramatically mystical side of Dybek's spectrum is "Nighthawks." Based around Edward Hopper's famous painting with the same title, the story is broken into smaller pieces whose connection is not clear immediately.
At first they seem to show different scenes occurring late at night. By the fourth brief section entitled "Killing Time," Dybek locks in on Hopper's painting of a lonely diner in the dead of night. The next section, "Insomnia," takes it to the next level, actually entering the world of the "Nighthawks" and building the previous stories onto the famous painting. Dybek uses the man behind the counter to examine the mind of an insomniac.
"Perhaps it's something other than insomnia...to try to dream, but succeed only in remembering..."
Rain, trains, rivers and lovers occupy this nocturnal world. Somewhere between death and life, two lovers introduced in the first section weave their way through the rest of the sections as if wandering through dreams.
At first they chase each other, but then realize that something more powerful is pushing them along--a current, a driving rhythm, or an insomniac's persistent remembrance. An unnamed narrator realizes that, "it may be time to release his memories so that they can begin to assume a life of their own."
Dark Humor
Dybek also slips some dark humor into the mix with stories like "Death of the Right Fielder" and "Bottle Caps." These brief narratives examine death and remembrance from a child's slightly warped perspective. "Death of the Right Fielder" begins, "After too many balls went out and never came back we went out to check. It was a long walk-he always played deep." Dybek has a quick sense of humor and an astute sense of humanity, which makes the comedy seem fittingly ironic.
On the cover of Stuart Dybek's The Coast of Chicago, the word "stories" floats like a subliminal message in the shadows of an urban Chicago landscape. Personally, I can think of no better way to present Dybek's stories in this collection. They flow through the city mixing African rhythms, Latin beats, and Slavic mysticism into the brick and concrete world of Chicago.
Read more about Stuart Dybek's book of short stories, Coast of Chicago, on GoodReads.com.