I wrote this feature-length profile for a journalism class in 2005.
Paul Ingram regales the crowd of about 50 women with tales of mystery, love and heartbreak from behind a podium in the Hillcrest Country Club in Mount Vernon, Iowa.
His voice rises to a piercing tenor and drops to a husky whisper as the drama unfolds. Ingram clutches his chest, stalks around the podium and throws his arms in the air. He brings the women to laughter and makes them sigh in sympathy. Tonight, Ingram plays the roles of storyteller, actor and bookseller with gusto.
Ingram had left for Mount Vernon that evening armed with two paper bags loaded with books and only a vague idea of the group he would be addressing. ("I think it's a women's group, but I could be completely wrong," he confessed.)
He was partially correct. In fact it was two women's book groups in Mount Vernon–Ingleside and Entre Nous, which hold a joint meeting each September. As a guest speaker this year, they invited Ingram of Prairie Lights Bookstore at 15 S. Dubuque St. in Iowa City.
Though book buyer is his official title, Ingram is more widely known for his ability to recommend and sell books. Jan Weissmiller, the store's poetry buyer, says customers have come to depend on Ingram's authority.
"He sells people on books," Weissmiller said. "If there's some book of poetry that I particularly like, I always show it to Paul, because Paul will end up being able to hand-sell it if he likes it, too." At times it can be frustrating, she added, because some customers depend on him so much that they won't accept help from other staff.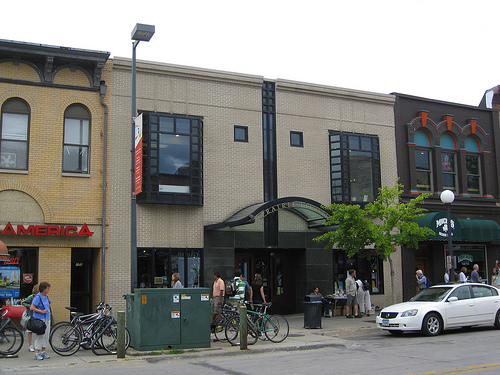 Photo of Prairie Lights Bookstore by Chris Yunker, 2009
Stationed behind a cluttered desk in a tucked away corner of the store, Ingram looms large at Prairie Lights, though he only stands 5 feet 6. Ingram has worked at the store for about 15 years.
Now 59, with his trademark red suspenders, dark hair swept to one side with gray emerging at his temples and speckling his heavy eyebrows, Ingram remains what Prairie Lights owner, Jim Harris, describes as "effervescent."
Harris opened the small bookstore in 1978 and hired Ingram as a book buyer in 1989. "Sometimes it's a pleasure and sometimes it's a pain...like working with anybody," Harris said.
"[Ingram] is a force of nature. He's highly enthusiastic," Weissmiller said. "He can be absent–minded," she added with a laugh. "He never forgets much about books, but he can forget the person that was in front of him 10 seconds ago. His mind is on higher things."
However, he still remembers some of the many clerihews he wrote during a "manic phase" about 10 years ago. He became obsessed with the four–line poems that resemble the style of limericks, and would stay up past 4 a.m. writing poems about famous figures. He recited a few of the tamer ones from memory.
"Greenleaf Whittier, Thought nothing was shittier, Than being stuck in the snow, With H.D. Thoreau," he said in a gruff murmur. "Michael Jackson, Looked Anglo-Saxon, Due to some nasty, Rhinoplasty."
He said he finally had to force himself to stop because they kept getting "weirder and creepier." He hasn't been able to write any clerihews since that two–month period.
Background
Ingram was born on September 25, 1946 ("a true baby boomer") and grew up in Washington D.C. A lifelong bookworm, Ingram admits that he was "a real nerdy kid."
"I ended up living a very adventurous life through books," he said in a raspy whisper. "And sharing that with people, which is what I do as a book seller, is a huge pleasure."
Ingram attended University of Virginia to get his degree in linguistics before coming to graduate school at the University of Iowa. He disliked his speech pathology studies, dropped out of the program, and began working at a bookstore. He loved it so much that he never even considered doing anything else after that.
Ingram worked for eight years at Iowa Book & Supply, then eight years at the Iowa Memorial Union Bookstore before coming to Prairie Lights. Weissmiller calls Ingram "an Iowa City institution."
"I worked in every bookstore in Iowa City," Ingram said proudly. "My goal was to never leave Iowa City and to always have a bookstore job, and so I've just about got it done."
Promoting Prairie Lights
He has stayed at Prairie Lights longer than any other bookstore because he says the customers there are "readers." Ingram has high objectives for the independent bookstore.
"I'd like to see people thinking about Prairie Lights as Iowa's bookstore," he said. "What I want is those people in Des Moines or Charles City saying, 'I want this book. I'll call Prairie Lights.'"
This goal is what brings Ingram to book talks like the one in Mount Vernon. In preparation for his speeches, he gathers a few of his favorite books in various genres, makes a list, and prints copies for everyone at the event—his wife's idea.
"My wife has constantly nagged at me, 'If you don't have a list, they won't listen to you,'" he says with mock aggression. However, he quickly acknowledges that she's "absolutely right," recalling several times when his audience was so busy scribbling down book titles, they hardly looked at him while he spoke. Ingram also makes sure to include the price of each book and place an asterisk by the 25 percent off specials at Prairie Lights.
Ingram and Ellen Heywood have been married for 21 years. Ellen manages a research study in the Department of Epidemiology at the University of Iowa. His stepdaughter, Sara Moninger, still lives in Iowa City, which Ingram appreciates because he also gets to be close to his nine–month–old granddaughter, Erin.
Ingram can also be heard on the Big Brain radio show with Ben Kieffer on the University of Iowa radio station, WSUI. Kieffer invited Ingram onto the show once, and the two had so much fun that Ingram became a regular guest.
"The idea is that you throw out some problem or some question that you've always wanted to know, but no one ever explains, like 'Who wrote Happy Birthday To You?'" Ingram said. "And Ben [Kieffer] makes sure he mentions Prairie Lights every time so, again, you know, the name keeps getting out there."
Local bookstore vs. Internet giant
According to Ingram, the Prairie Lights' greatest competition is not large bookstore chains like Barnes and Noble, but online stores like Amazon.com. He notes how easy Amazon makes it to buy a book: you just look it up, click a few buttons, and receive your merchandize in a few days.
What is missing, Ingram says, is the physical contact with the people recommending the book, as well as physical contact with the book itself. Even so, the Internet makes it easier to buy books from locations that are difficult or impossible to reach physically. That's why Prairie Lights now offers a buying feature on its website.
"Now whether this job [as a bookseller] is going to become obsolete in the next ten years, I have no idea," Ingram said.
After his Mount Vernon presentation, he fields questions about his reading habits. He admits that he doesn't read every book publishers give him because there are just too many.
"There are books that I finish, books that I don't [finish] but still think are really good, and then there are books that I read 10 pages of and throw it away," he says. "Over time, I can tell what a good book is and who I can sell it to."
Another woman approaches to tell him that he is the first male speaker the group has hosted.
"Now I feel good!" he exclaims.
Visit the Prairie Lights website, or go straight to Paul's Corner.